About the Platform
Edisoft Mobile is designed specifically for the development of enterprise solutions. Applications created on the Edisoft platform are easily integrated with ERP, CRM, WMS, EDMS and other corporate information systems, as well as all other solutions of our B2B ecosystem.
The technology stack used is the basis for creating applications in the following areas: contracting, procurement, logistics, banking, document processing and signing, field staff management, delivery control, monitoring, HR processes. Edisoft Mobile provides a vast range of opportunities to adapt to constantly changing business needs, including scaling.
You can use the ready-made corporate applications from Edisoft right now or order your own development.
Turnkey Solutions
We manage projects from technical specifications and business analysis to design, development and support
Maximum Flexibility
All Edisoft applications are tailored to your specific business needs. They look like your own design
Quick Effect
You will see the benefits of using and return on investment in the project in a short time
Development Сontrol
Budgeting, progress and goals of creating mobile solutions are extremely clear at all stages of development
Edisoft Courier
Automation of delivery management and field employees
Planning of the working schedule of personnel. Setting tasks, monitoring their implementation, reports and detailed analytics.
Fast distribution of orders and visits to customers based on a variety of conditions. Smart routing for increased productivity.
Tools for the work of a field employee with a client. Marketing surveys, checklists, photo fixation, data transfer to the office without visiting it.
Edisoft Agent
Management, control and planning for outbound sales and merchandising
Synchronization of product catalogs with the company database. Current balances and prices in the application. Making orders at a meeting with a client and instantly transferring them to the office.
Control over the status of showcases and display of goods at the client. Photographing, planogram management and reporting.
Additional tools for field sales: customer categories, discounts, order history, binding to the territory, questionnaires, document constructor.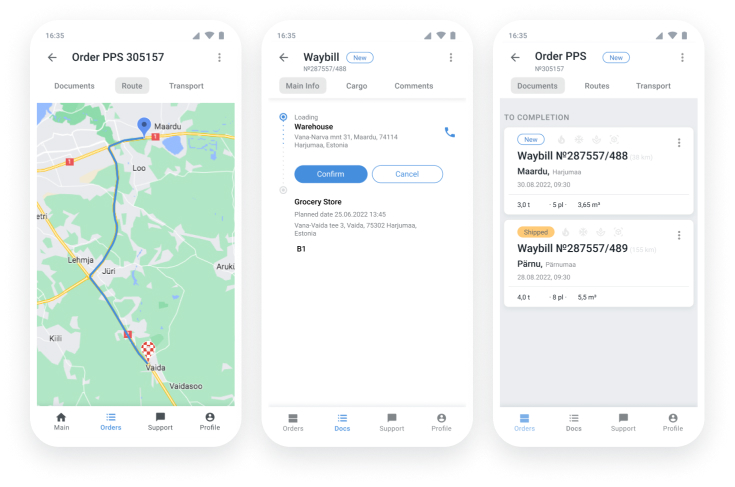 Edisoft Logistics
Managing the actions of drivers during cargo transportation
Shipping document electronically inside the app. Available to the driver and other employees. No need to carry paper documents.
Legal significance. Support and synchronization of a full-fledged dockflow in logistics.
Smart planning. Monitoring the location of vehicles, creating optimal routes for the driver.
Ready-made Frameworks
We develop enterprise applications based on a large selection of modules and components, including reusable modules and solutions with specific functionality and business opportunities. Based on them, you can quickly create your new enterprise services and solutions, accelerating their time to market and increasing the value of your enterprise.
Integrations Tools
Seamless connection with corporate accounting systems and a web-based admin panel to synchronize the exchange of any data.
Task Management
Creation and distribution of tasks between users. Control over their implementation. Instant transfer and notification of the need to complete the task.
Time Planning Employee Management
Managing the work schedule of employees. Calendars and dashboards based on many parameters: work schedules, employee availability, workload, location. Role model of users. Functional access levels.
Catalogs MasterData
Synchronization of product balances and price categories in corporate systems with field sales applications based on up-to-date data.
Analitics Reports
Collection of various parameters of the field staff activities and creation of own reports. Automatic or manual collection of reports without paper duplication or data entry into third-party systems.
Docflow Template Builder
Create your own documents and use ready-made templates. Ensuring the legal significance of document flow without the use of paper.
Routing
Smart routing for employees engaged in out-of-office work. Fast distribution of visit points to increase efficiency. Analysis of the road situation.
Polls Gamification
Conducting marketing surveys during a visit to a client, collecting and processing data. Gamification for field employees - a system of achievements and statuses.
Photographic Fixation
The ability to take photos inside the application - from the safety of the packaging or storefront to documents and customer authentication. Transferring data to the admin panel. Protection against fraud and leaks.
Receiving Sending Customer Orders
Placement of orders during a direct visit to a client inside the employee's application. Instant data transfer to internal systems for processing a transaction or task, as well as related documents.
Technology Development Stack
An experienced team of our specialists develops Edisoft Mobile. We use:
Java, Spring, Hibernate, PostgreSQL
VueJS, AngularJS, React, Less
Java (Android), Kotlin (Android), Flutter (Cross-Platform)
Swift (iOS)