Our Mission
Every year, businesses around the world use trillions of paper documents in their daily work, increasing the burden on the environment and leaving a high carbon footprint. We consistently advocate minimizing this impact, devoting our developments and technologies to the transfer of business processes to electronic form.
We help clients to go paperless as much as possible
It saves the planet and makes the business more attractive to investors
We consume resources responsibly within our company
Edisoft digitizes its own internal processes and recycles used materials
We believe that new technologies reduce the burden on nature
Each of our projects and products is developed with a green strategy in mind.
550 000
trees saved annually by our customers using electronic data interchange
30+
of our enterprise level clients and partners are in the top of ESG ratings
99%
communications with customers take place online, without flights and trips with a carbon footprint
80%
reduced average paper usage by customers with our services and solutions
100%
all batteries and accumulators used in our offices are recycled
100%
new Edisoft customers receive invoices from us electronically
Electronic archives and cloud solutions — must have
We consistently adhere to the idea that businesses should minimize the use of physical data storage, transferring them to the cloud and digitizing processes as much as possible.
Complex digitalization as standart
We believe that only comprehensive digitalization allows for more efficient use of resources, making business greener. No need to stop halfway, the result will be visible when scaling.
Look in depth of processes
Efficient digital business communications and technologies indirectly reduce transport downtime, route inefficiency and excessive CO2 emissions, eliminate the need to physically move couriers, mail, drivers just for the sake of transferring a pack of paper.
More performance and less energy consumption is a reality
Outdated IT solutions and a lot of routine software operations increase energy consumption, but well-established processes, smart automation and intelligent processing of big data can reduce the load on servers and power grids. In the development of our solutions, we only adhere to such an approach — get more results with fewer resources.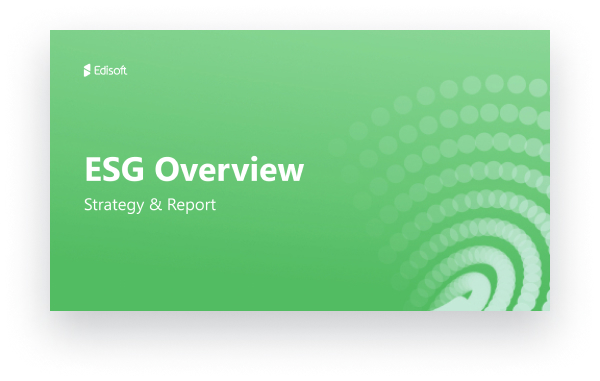 See Our ESG Overview
Learn more about our green plan, eco-activities and principles in the detailed document