About Solution
Edisoft Platform is a solution for digitalization of data and document exchange. Translates interaction with business partners into an electronic form.
Edisoft Platform provides tools for creating, signing, approving, reconciling, transforming, routing, sending, archiving electronic documents. Suitable for procurement, logistics, accounting, treasury, HR and commercial services. Helps to automate business processes, reduce human errors and operating costs.
Edisoft Platform supports the processing of 100 types of documents: from international standards (EANCOM) to regional (European Union, CIS, etc) and individual client documents. Any EDI messages, notifications, contracts and agreements, waybills, invoices, acts.
Own development
Everything is based on open source technologies. Processing, development and support - in EU.
Low rates
Without confusing conditions and pitfalls. Everything is open and clear. Pay only for documents.
Confirmed by experience
It is based on many years of experience of users, the world's largest companies.
Constructor features
Based on the platform modules, you can quickly launch your business applications and solutions.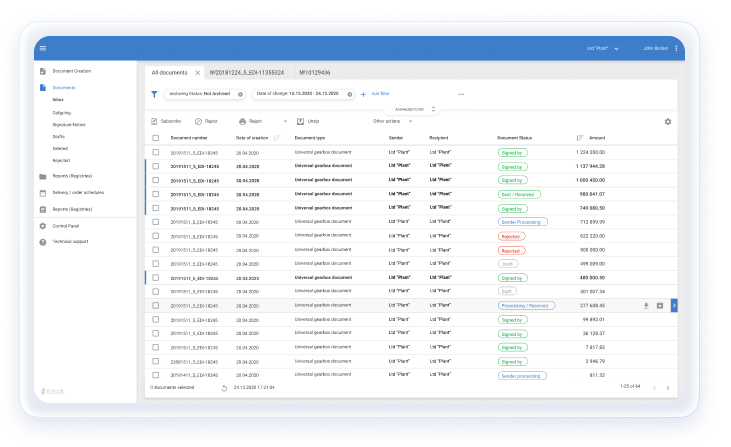 EDI and E-Docflow
Digitize your business processes and data.
Any types of documents and EDI messages. Easily switch to electronic document management within the company, with your suppliers, customers or b2b buyers.
Full legal significance. You will be fully protected by law and will be able to safely abandon paper counterparts.
Access to the global network of corporate users. The largest retailers, distributors, manufacturers, banks, logistics companies already work with us. You can quickly set up data exchange with them in a new format.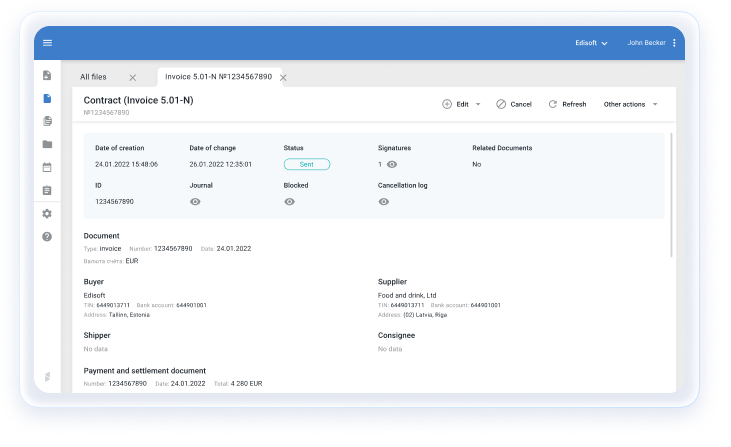 Application Tools
Use the platform to manage data, processes and documents.
Matching and validation. Edisoft Platform keeps your data and documents intact. Eliminates the risk of duplication, loss of information and reduces the number of errors when working with large volumes of files.
Document transformation. Converting e-doc formats according to predefined logic. No more manually entering information into your systems.
Role models and routing. Customize user access levels for certain platform features. Create routes for passing documents within your company for signing and approval.
Edisoft Platform modules: basis for your business solutions
Edisoft Platform is also a builder platform for running your own enterprise services and applications. Use ready-made frameworks and modules that adapt to any tasks and conditions as flexibly as possible.
Sourcing: Counterparties & Сontracts
The module automates upstream processes before concluding a contract and reduces labor costs for interaction with potential partners, transferring them to a digital interaction format.
Contract Management. Create and sign documents without paper.
Onboarding for business partners and customers. Quick connection to EDI and E-Docs services.
Price matching and synchronization. Managing product catalogs and categories.
Procurement: Process & Cycle Management
The module ensures the progress of downstream processes during procurement after signing of a contract. Allows you to automate direct or non-commercial purchases from a large number of suppliers.
Procurement Portal. Launch of an enterprise solution for working with suppliers.
Digital B2B marketplace. Order and goods management.
KYC, procurement monitoring and analysis. Big data processing for decision making.
Logistics: Automation of cargo transportation
The module automates the interaction between shippers, consignees and transport and logistics companies. Simplifies communications by sharing logistics documents electronically.
Electronic waybills. Creation, signing, processing of documents in logistics processes.
Logistics platform. Launch of a corporate solution for working with cargo transportation.
Mobile applications for drivers. Tasks, routes and delivery control.
Docs: Electronic document management
The module provides the electronic document and EDI messages exchange. It speeds up work with orders and shipments, acceptance and inventory of goods, reduces the number of errors.
E-Docflow. Any formats of electronic documents and their transformation.
Multiprovider and roaming. Document flow management from a single window.
Electronic signing. Process logic management and automation.
Financing: Funding and payment
Automates supply chain finance management with blockchain technology and paperless data exchange. Helps to reduce routine actions, speed up payments.
Supply Chain Finance. EDI-based factoring management.
Payment Factory. To automate treasury operations in your corporation.
Invoice discounting. Managing the terms of trade credits and reducing receivables.
Implementation and development based on Edisoft Platform
We'll explore your tasks and offer solutions that will best suit your needs. Instead of developing for years, you will get the result in a few weeks and months.
A dedicated team of Edisoft specialists replaces the IT department on the project. We monitor the development time and costs, fixing all the details in the contract.
Studying the task, preparing the project and custom scripts
Development of client and server parts, as well as architecture
Testing the solution, launching and scaling
Post-project support and scheduled updates